The road to Punta del Este, and a glass of Uruguayan white
From a city of broken streets to bohemian Pueblo Garzón and its eco-vineyard, former fishing villages studded with art galleries and Uruguay's biggest resort city, Mark Footer's journey is full of contrasts – and capybaras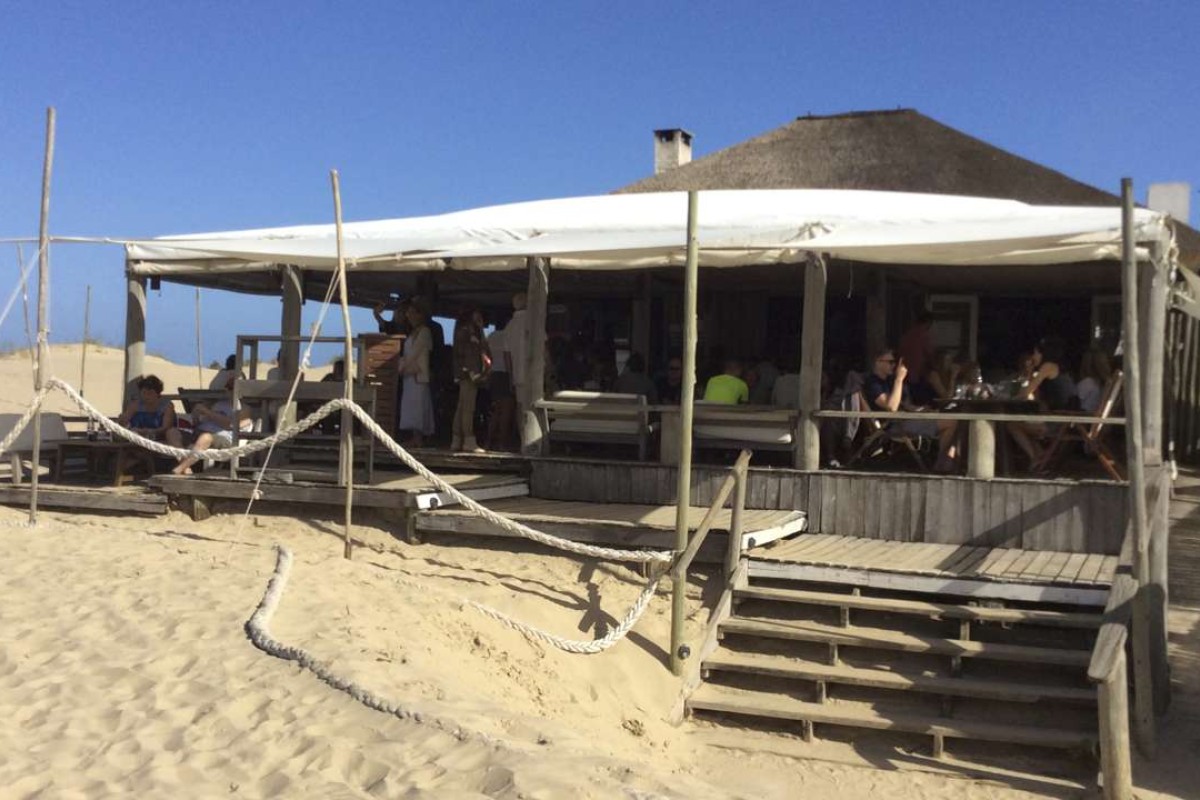 La Huella restaurant, José Ignacio. Pictures: Mark Footer
Cuarenta kilometros" are not words you want to hear when your fuel warning light has suddenly blinked on and you have just asked how far it is to the nearest service station. Nevertheless, 40km is how much further I must coax my thirsty hire car, according to the woman manning the toll booth on the border between the departments of Rocha and Maldonado, in eastern Uruguay. I have come from the city of Rocha, a place of broken streets and even more broken vehicles, and the service station that is now the focus of all my attention is in the upmarket seaside village of José Ignacio, which happens to be where I'm staying. The road, Route 9 (which is paved, unlike much of the bumpy Route 10, which runs parallel along the dramatic coastline and drank much of what fuel my car was delivered with), is a lonely stretch that dissects the flat, uniform pampas.
I pass the occasional tethered horse and catch sight of a pack (or is it troupe?) of capy­baras, the world's largest rodent (about as big as a medium-sized dog), some scamper­ing through the grass, others standing with heads held high, alert for danger.
To help deal with the stress of imminent breakdown – I have no phone, no pesos and minimal Spanish, not that there are many passing motorists to use it on – I imagine the reward I'll treat myself to should I make it back: a glass or three of chilled albarino.
I try to remember what the Top Gear presenters did when they ran low on fuel; air-conditioner off, maintain a steady speed – and definitely no taking the dirt-road turn-off to Pueblo Garzón, a village that has lent its name to one of South America's newest and most impressive wineries.
I am in Uruguay at the invitation of Bodega Garzón, a 200,000 sq ft state-of-the-art facility that was six years in the making. The winery is the brainchild of Argentina's richest man, Alejandro Bulgheroni, who is hoping it will become the first in the world to attain comprehen­sive LEED (Leadership in Environmental and Energy Design) certification.
With a main building constructed to meld with the contours of the rolling hills that surround it, Bodega Garzón specialises in tannat (a red-wine grape that is to Uruguay what malbec is to Argentina) and the albarino I'm eagerly anticipating.
Predating the winery – and a few hills over – is another undertaking by the Bulgheroni family: Colinas de Garzón, a producer of extra-virgin olive oil. Tourists are welcome at both operations, to see the work that goes into filling their respective bottles and enjoy a taste of what the Bulgheronis like to call "little Tuscany".
Garzón itself was founded in the early 1890s, alongside a train station through which many more cattle passed than people. It had largely fallen into disrepair when an international group of artists and other creative types, including Argentinian chef Francis Mallmann, resurrected it as the most bohemian of pueblos.
It boasts a couple of shops selling clothes of the chic, unique variety but the main attraction is Mallman's Hotel & Restaurante Garzón, which has just five guest rooms and occu­pies a red-brick former general store on a corner of the main square. The convivial celebrity chef is often to be found in the glass-fronted kitchen, and if you visit on the right evening you'll discover the street outside has been turned into a huge bonfire around which skinned lambs
I look forward to having a look around another day, or meat-scented night, but first I must … Ah, blessed relief: José Ignacio's Ancap garage.
ONE OF A NUMBER of former fishing villages that stud an oceanside stretch of modernist holiday homes, art galleries and sandy floored restaurants, José Ignacio is a magnet for sophisticates in search of a break from the resort city of Punta del Este, 30km to the southwest. Its landmark, the one you buy little models of as souvenirs, is a lighthouse built in 1877, the top of which offers a panorama of breaking waves, dunes and scrubby hinterland.
More of an attraction, though, is the wide beach, which runs all the way to Brazil, 180km or so to the northeast.
When it's raining, as it was on my first couple of days, there's not much to do in José Ignacio other than sit back and feast at the beachside La Huella (pronounced "la waysia"), described by those in the know as one of South America's finest restaurants. Even at this late stage of the summer season (March), it's a squeeze.
Beneath an expansive thatched roof, diners are treated to simple fare – fresh fish baked whole with a splattering of garlic and lemon, an octopus dish everyone raves about, wood-oven cooked pizza – sourced from local fisherman and farmers. (A second La Huella has opened recently, in Miami, in the United States, in Hong Kong company Swire Hotels' new East development.)
AS TEMPTING AS IT IS to return to La Huella, the sun has come out and I have a full tank of fuel. I leave behind the narrow, sandy streets of José Ignacio, now thronged with holidaymakers and clogged with cars bearing Argentinian number plates, turn onto Route 10, pass the village lagoon and head towards Punta del Este, the wine I promised myself forgotten.
According to the map, I pass through Santa Monica, Eden Rock and Balneario Buenos Aires, but there's little to distin­guish one seaside settlement from the next until the high rises of Punta come into view and the roadside houses become bigger and more imposing.
By the time I reach the half-completed Trump Tower – a splodge of white paint decorating the face of its grinning patron on the hoarding perhaps a sign of what the locals thinks of El Donald – it's beginning to feel like I'm entering a city, albeit one devoid of people. On one side of the road are block after empty block of high rises, on the other, unbroken stretches of dunes obscuring wide, empty beaches.
Punta del Este is either happening or it isn't. The city has a population of a little more than 9,000 but in the summer season, December to March, that expands to hundreds of thousands as the wealthy from Buenos Aires and the northern hemisphere come to party on Punta's beaches and in its nightclubs and casinos.
The city marks the eastern extremity of the north shore of the River Plate and the coastline is divided into two: Mansa (Spanish for "tame") and Brava ("fierce"), the Atlantic side. The split is marked by the Mano de Punta del Este, four fingers and a thumb sticking out of the sand, which Chilean artist Mario Irarrazabal designed to warn swimmers about the dangers of a rough sea.
His sculpture is the other landmark that adorns mugs and T-shirts in this part of the world, so at one of the many customer-free shops stocked with tourist trinkets and the gourds and flasks needed to ensure a steady supply of mate (the caffeine-rich infusion many Uruguayans are never without), I grab a couple of snow globes – one contain­ing Irarrazabal's hand, the other a minia­ture Jose Ignacio lighthouse – to take home as gifts before pointing the car in the direction of that bottle of albarino.
Bodega Garzón wines are available in Hong Kong through Montrose Fine Wines
Mark Footer
scmp.com