Hidden hot-springs resorts are where the Japanese go to discover the mythical pre-industrial 'lost' Japan
Bathed, fed, and warmed further by local sake, and possibly in danger of succumbing to lethargy from over-bathing, the only disturbance to enjoyment of this time machine might be a concern not to spoil it for Japanese visitors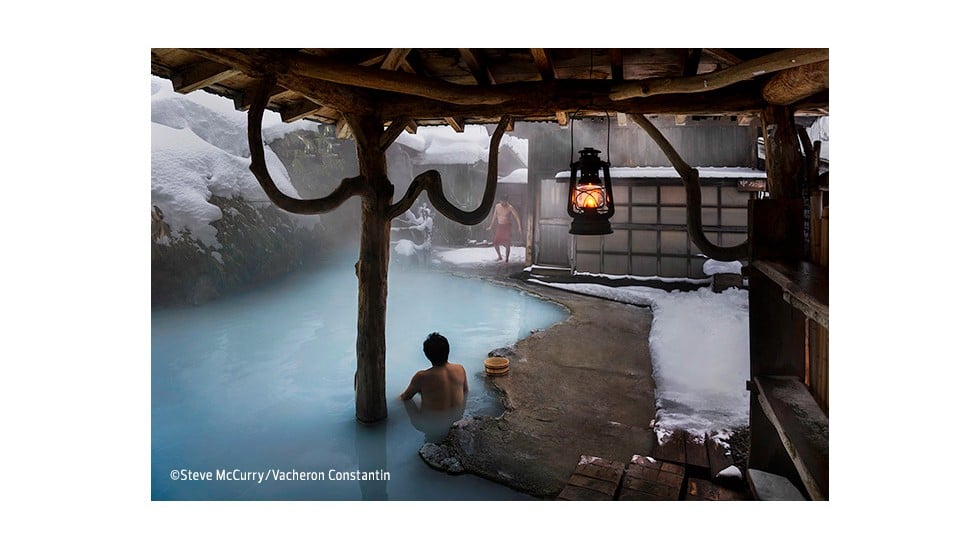 Japan's hot-spring bathing resorts, or onsen, are where the Japanese go to find the "lost" Japan – a mythical pre-industrial golden age before "salaryman" became part of their vocabulary – and they have a special word for the more tucked away and traditional resorts: hito, "hidden hot springs".
In Japan, "hidden" need not mean inaccessible, however. One of the most charmingly rustic resorts, Tsurunoyu, is easily reached by 300km/h shinkansen train from Sendai or Tokyo which peels off the main line and climbs into mountains on a single-track line, slowing to a crawl. From Tazawako station a bus, which carries snow chains, wanders up into the mountains for 40 minutes on narrow roads to a hut with a telephone, from which the visitor summons the resort's minibus.
The further climb into a silent valley of snow-laden pines from some idealised Christmas only takes 15 minutes, but goes a century back in time. Amid the drifts, Tsurunoyu looks like an ancient black and white photograph, motionless except for the mountain stream busying its way between the buildings. Even the waterwheel is rigid. The only spots of colour among its black beamed and walled buildings are strings of crimson peppers and orange persimmons left hanging to dry from the eaves of a 120-year-old thatched dining hall. A man in conical straw hat and cowled against the minus 5 degrees Celsius temperature chips nervously at metre-long Samurai icicles with a plastic shovel, while guests pad soundlessly by in sandals, light cotton robes (yukata) and heavier cotton jackets (haori).
Sliding entrances lead to warm, woody interiors, which flex and creak pleasantly as people come and go. The rooms, all floored with tatami rice-straw matting, have cushions for seats and paper screens over the window, but no television. The only sounds as you change into your robes are those of the stream, and the wind in the trees.
On your way to the baths the calm of the other guests seems impossible to achieve as snow gathers round your naked toes, and the wind whips through the skirts of youryukata. Their indifference to the temperature turns out to be due not to years of meditation under some spiritual master, but to earlier protracted immersion in hot, milky water.
Onsen bathing is traditionally done naked and continues year-round even in outdoor baths called rotenburo. Tsurunoyu's 400-year-old bath, where the tradition of mixed bathing is preserved, is partially screened from the path by a roughly woven bamboo hedge and a rickety thatched pavilion, and is reached by sliding open a door into a pebble-floored hut, where clothing is abandoned (there are separate rooms for men and women).
At a square sunken bath whose wooden sides are so mineral encrusted as to appear to be concrete, dippers are used for the required pre-bathe scrub. In an unusual instance of inequality acting in favour of Japanese womanhood, female bathers are supplied with bath sheets, which they wear at least until submerged – not that anyone's looking, of course.
The reward is complete relaxation in the embrace of the comfortingly warm, creamy and opaque water, delivered by an elegant wooden spout protruding from the hillside vegetation, while snow flakes settle electrically on the head and shoulders. All is sensation: water on skin, pebbly bottom on soles, the sulphurous pop of occasional bubbles from below, and birdsong.
Later, the dining hall is heated against the evening chill by charcoal pits set in the tatami covered floor, from which barbecued smelt and soup from a suspended metal tureen are brought to your individual low lacquered table. Sitting cross-legged (kneeling if female) you enjoy a succession of local mushrooms and herbs, radishes and fermented soya, tempura and onsen tamago – eggs cooked simply by immersion in the springs.
Bathed, fed, and warmed further by local sake, and possibly in danger of succumbing to yu-zukare, lethargy from over-bathing, the only disturbance to your enjoyment of this time machine might be your concern as an outsider not to spoil it for Japanese visitors who are similarly rapt.