'Our kind of place' – Corfu gets the family thumbs up
On a trip through Europe, a father and son go off the beaten track on the popular Greek island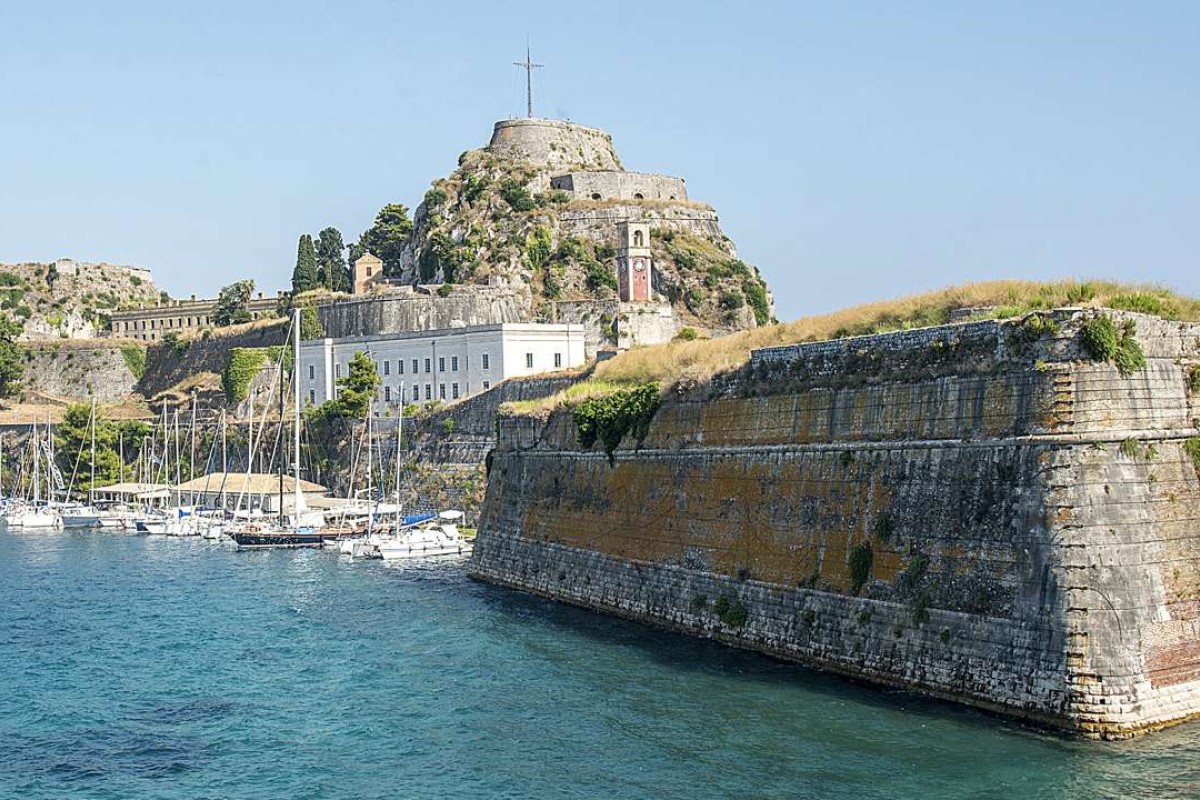 The Old Fortress of Corfu. Pictures: Tim Pile
I'll finally be able to relax only when we reach Agios Georgios, on the Greek island of Corfu. That's not to say the first part of our European holiday hasn't been fun, it's just that I've been promising my 11-year-old son sandy beaches and crystal-clear seas every time we set off on another tiring "are we there yet?" leg of the journey.
We cheered on Tour de France cyclists high in the French Alps, then worked our way south on a Swiss train that sped through spotless villages framed by sharp peaks. But while I sat transfixed by each snow-coated vista, Sam stared unblinking at old Simpsons episodes on my laptop. When we look back on the most memorable moments of our trip, I suspect he'll plump for season 22, episode 4.
Corfu was once the playground of European nobility. A century ago, summer residents included Kaiser Wilhelm II of Germany and Empress Elisabeth of Austria. Prince Philip, Duke of Edinburgh was born at the villa Mon Repos, which is now an archaeological museum. Corfu is less regal these days but evidence of its illustrious past isn't hard to find in its capital, Corfu Town.
Pushing my luck, I delay the bucket-and-spade component of our holiday a little longer by booking a two-night stay in Corfu Town, softening the blow with a conciliatory ice cream. Temperatures are nudging a tarmac-melting 40 degrees Celsius so Sam and I agree to snorkel off the rocks at Faliraki by day and explore the nooks and crannies of the old town after the tour groups have returned to their beach resorts.
Refreshed by the cool water and reassured that a shark attack is unlikely, Sam suggests we swim to Albania, an idea that isn't as daft as it sounds. The Balkan nation lies less than 2km across the Ionian Sea at its narrowest point. I distract him with another ice cream and buy a couple of bus tickets to Agios Georgios for the following morning.
As the sun goes down, we get to grips with a honeycomb of narrow, laundry-filled streets, visit the British-built Palace of St Michael and St George, and wander past the cricket ground to gaze at the imposing Venetian fortress. Mouse Island and the adjoining Panagia Vlacherna church are wonderfully photogenic – even though they're situated slap bang under the airport flight path.
I'm confident Agios Georgios (Saint George) will be our kind of place. According to my crumpled timetable, there are only three buses a day from Corfu Town. Some resorts have 15. Online travel forums refer to an absence of through traffic and describe the seaside village as "unlikely to appeal to party-loving teenagers". Perfect. I'm too old for throbbing nightlife and Sam is too young.
Ours is one of those rural buses on which passengers exchange pleasantries with the driver as they get on, and then again as they get off. We spend a leisurely hour meeting and greeting most of northwest Corfu's inhabitants until the vehicle is halted by a grey-haired man standing in the middle of a quiet lane with his arm outstretched.
George, this one merely kind-hearted rather than a saint, is expecting us and has flagged down the bus by his front gate to save Sam and me from walking an extra 50 metres. He and his son, Spiros, own Villa Spring, a buttercup-coloured holiday home surrounded by grapevines and wildflowers. Our studio is bathed in natural light, and has lots of outside space and a simple kitchen. It's clean, comfortable and costs €20/HK$175 a night – a figure so reason­able I keep checking it's the room rate and not a supplement for the welcome drinks.
Agios Georgios beach is a symphony of clear turquoise seas, salt-white pebbles and sand. There are plenty of waterfront tavernas and English is spoken as fluently as you would expect on an island that derives such a significant slice of its income from tourism. I spot a sunbed with my name on it. But, as every parent knows, relaxing is something you did before you had kids.
Our peak energy levels rarely coincide. Sam is all get-up-and-go after a meal, which is when I usually fancy a nap. After being summoned into the sea to watch him do five consecutive underwater somersaults for the umpteenth time, I suggest he starts a travel diary, foolishly adding "like dad does". This makes it the least cool idea ever.
"I thought you were keeping one for both of us," he says, a point I'm unable to disagree with.
On our second morning, George sets about fixing a tiny hole in our mosquito screen with a needle and thread, replaces a faulty kettle and picks some grapes for us.
"Ah, but you're friends," he says when I tell him he needn't go to so much trouble.
Friends are made quickly in these parts.
On his recommendation, we eat at Maria's Snack Shack. Inexpensive freshly prepared dishes fly out of the kitchen with enough healthy-ish options (seafood, feta cheese and olive pizza) to keep us coming back for more. The staff make a fuss of Sam, have a relaxed approach to bills ("Eleven euros but call it 10") and, best of all, know where we can hire a moped.
Soon we're negotiating a potholed road that hairpins high into the olive tree-cloaked hills above Agios Georgios. We pause at a series of lookout points, each more commanding than the last, before corkscrewing down into the resort of Paleokastritsa.
"Paleo" is busy but it's easy to escape the high-season hordes by taking boat trips to caves and secluded stretches of sand.
Next we head to the hilltop village of Afionas and follow a boulder-strewn footpath to Porto Timoni, a breathtaking brace of beaches lapped by sapphire seas. Paint charts should all have a shade named "Timoni Blue". We stay to watch the sunset (Afionas Amber?) then pootle back to Maria's, where I succumb to pester power and treat Sam to his third ice cream of the day.
Perhaps we'll try Albania next summer. If we don't like it, we can always swim back to Corfu.